<![CDATA[Life is unpredictable, why waste it sitting idle and mulling over stupid things! Traveling with friends is the best thing you can do to break free from your mundane routine and do something exciting. There are places in India that are defined by quaint charm of hills, surging sea waves, stunning sunrise and sunset points, and valleys of mist. They exist on the face of the earth so that you can explore those places with your gang of friends. Here are the top 8 destinations where you can plan an escape with your friends right away!
1. Pondicherry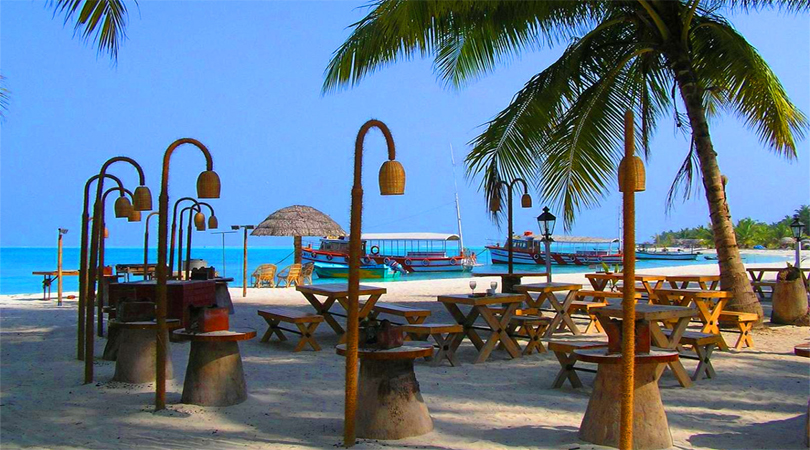 India's very own french colony is the perfect place to plan a trip with friends. With all the attractions and colorful settlements around, Pondicherry makes for an ideal weekend getaway from Chennai and Mahabalipuram. It is mostly swarmed by the foreigners, especially during the months of December-January – the best months to visit Pondicherry.
With all the turquoise water, pristine beaches, water activities, and significant structures around, Pondicherry remains one of the most popular destinations in a bachelor's bucket list. And hey, cheap beer is a privilege in Pondicherry!
Things to do in Pondicherry:
Boat ride to Paradise beach island, Chunnambar boat house, bird-watching at Ousteri lake, Scuba diving, Gingee Fort, visit to Le Club and Promenade
2. Coorg, Karnataka
The 'Scotland of India' is a gem of a place for all the nature aficionados. It charms with mystic hills, tranquilising charm, soothing environs, and hushing aroma of salubrious climate. No wonder it is one of the most thronged hill-stations down south. Also, Coorg is a lovely weekend getaway from Mysore, Mangalore, and Bangalore.
Things to do in Coorg:
Visit Abbey falls, Brahmagiri Peak, Dubare Elephant Camp, Nagarhole National Park, and Chettalli
3. Goa
The more you write about this place, the larger aspect of it is left uncovered! That's Goa for you; India's very own mecca for avid travelers. A vibrant holiday destination off the west coast of the Indian peninsula, it is popular among groups of friends looking forward to a beach vacation. And the best part is that
Goa tour packages
offer a number of luxury and budget options, which can be customized on demand.
Things to do in Goa:
Visit Dudhsagar waterfalls, water sports at Dona Paula Bay, Chorao island, and try your luck in casinos
4. Lonavala, Maharashtra
Located in close proximity of 83.6 km, Lonavala is a hill-station getaway from Mumbai and Pune. Its accessibility, striking viewpoints, and ancient caves make Lonavala an allure for youngsters. Popular among groups of friends and lovebirds, Lonavala's scenery comprises of the most vibrant shades of a spectrum.
Things to do in Lonavala:
Water rappelling, flying fox, a sightseeing tour to Lohagarh Fort, Bhaja Caves, and Lion's Point
5. Lavasa, Maharashtra
Lavasa is privately planned city beside Pune that has been seeing a large number of footfall lately. The place has an aura that charms most of the youngsters living around, thus making it an ideal getaway.
Things to do in Lavasa:
Apart from breathtaking views of sunrise and sunset, the city facilitates almost all adventurous activities such as jet skiing, bumper boats, pedal boats and water volleyball. Also, try paintball, rappelling, rock climbing, and camping at Xthrill Adventure Academy.
6. Nag Tibba, Uttarakhand
At 3000 metre plus, Nag Tibba- the highest peak in Lesser Himalaya region of Uttarakhand, is another exciting location to hop around with friends. The spectacle of nature is a gorgeous mix of mountains, snow, waterfalls and enchanting nature view.
A trek in Nag Tibba is the best thing to do when you are here with your friends. The trek not only offers a panoramic view of the place that is enveloped by the imposing mountains of Lesser Himalayas but also gives you a lifelong experience and plenty of memories.
Things to do in Nag Tibba:
Visit Kempty Falls, Shedup Choepelling Temple, enjoy spectacular views of the place from Gun Hill, and ride the ropeway
7. Spiti, Himachal Pradesh
Spiti- a trekker's ultimate destination is also popular for camping under stars while beholding the centuries-old monasteries. The colossal background painted by nature is one of the prime allures, which makes the valley an intriguing destination to explore in India with your friends. The Lahaul & Spiti valley heavily depends on Rohtang Pass to let the travelers through to the Zanskar in the north.
Well, if you are planning to take a thrilling trip with your friends anytime soon, go on and plan a
Lahaul & Spiti trip this October
. The views are simply spellbinding.
Things to do in Spiti:
Trekking and camping in the valley, visit Chandratal, sea fossil in Langza, try local grape wine in Ribba, and experience the diverse flora and fauna at Pin Valley National Park
8. Ladakh, Jammu & Kashmir
The land of imposing mountains, dreaded valleys, and ancient monasteries has been one of the favourite destinations of the millennial generation. The land shrouded in thick sheets of snow is inaccessible for the most part of a year, which makes it even more exciting.
Some of the highest motorable roads in the world making their way across the most difficult mountain passes intrigue all the bulleteers across the country. Leh is for the gangs of best buddies.
Things to do in Ladakh:
Camp in the mountains, watch the confluence of Indus-Zanskar rivers, visit Hemis National Park, and enjoy the hospitality of Ladakhi homestays
India is home to several places where you can roam around with your gang and make the best of available time. So which is the next destination on your bucket list?
]]>